In Five Years: A Novel by Rebecca Serle
After Rebecca Serle's last dumpster fire of a book, you may wonder why I picked this one up. Once again the premise for the book seemed so compelling, the execution just had to be worth the ride. Once again, disappointment.
As the story opens, "Type -A Manhattan lawyer" Dannie Kohan is on the cusp of getting everything she wants. She is about to get the job she has not only dreamed of, but doggedly, determinedly worked towards every day of her life. She is about to get engaged to a man who by all rights, seems perfect for her. Not a wallflower. Not a lazy lout. But content with Dannie being the one whose career takes precedence in their upcoming marriage. On the eve of all this joy, Dannie has a weird dream where she wakes up five years in the future, in a different apartment, next to a different man. From there, the rest of the book is a journey of discover to find out what happens to screw up her life so that it does not end up as planned. I won't spoil the surprises if you plan to read the book.
Here's my problem with the premise of this book. Just because she has this weird dream, just because some terrible things happen to people she cares about, does not mean that the career she's fought for and man she picked suddenly is not good enough. This woman goes from being completely all there and put together to being a typical Chick-Lit "Bridget Jones" mess. I just don't buy it. Read my prior review here: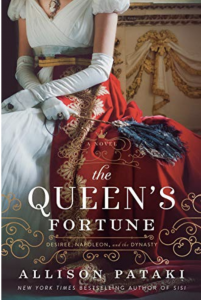 The Queen's Fortune: A Novel of Desiree, Napoleon, and the Dynasty That Outlasted the Empire by Allison Pataki
This book had everything I look for in historical fiction: action, suspense, and an education.
I'd never heard of Desiree Clary and her amazing, lifelong connection to Napoleon Bonaparte. She was Napoleon's first fiancé and eventually his sister in law. She was a lady in waiting at the court of Empress Josephine. And it was Napoleon himself who introduced her to her eventual husband, Jean Baptiste Bernadotte, the future King of Sweden.
Fun side note — Allison Pataki is the daughter of former NY Governor, George Pataki. He was given little chance of defeating Mario Cuomo in 1994, that glorious year of the Republican revolution. He came to Syracuse University where we few college Republicans valiantly waved signs on his behalf. Unbelievably, he won and became the longest serving Republican Governor of the State of New York. It was George Pataki who suggested Desiree would make an incredibly subject for Allison's next book. Once again, he was right.