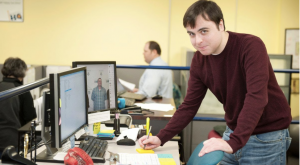 There is only one reason you should know about a new hire or a promotion at CampaignHQ.
If you trust your calls and texts to CampaignHQ, I promise these staff changes WILL make your life better!

Ken Tracy, Senior Campaign Director – Fundraising
For the last three years, Ken has served as our Director of Operations. He has a deep understanding of what works on the phone. He knows who to call, when to call them, and what to say to move people to donate. If we make your fundraising calls, then Ken has worked on your projects behind the scenes. He has listened to, coached, and even made some of your calls! Now he will have the chance to work with you and share these insights directly.

Trevor Dodds, Director of Supervision
With Ken's move to serving clients, his role in leading our Call Center Operations became open. And there was no better fit for this role than our very own Trevor Dodds. Trevor has been at CampaignHQ for nine years. He started on the phones and raised nearly half a million dollars before being promoted to trainer and then supervisor. Trevor's growth and ability to influence as a leader has grown exponentially. In fact, he was named CHQ's Supervisor of the Year in 2018.
At CampaignHQ we are a family. We are always working to develop and build each person up to their fullest potential. That's why we always look to fill our open positions from within whenever possible.
Each time, it opens an opportunity for the next person who is ready, willing, and eager for the challenge.
At CampaignHQ, anything is possible.
Ready to get started? Give us a call.