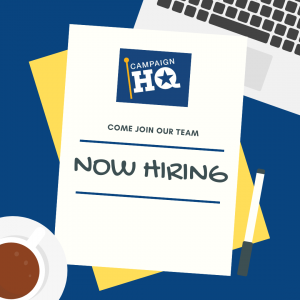 Looking for a career change where the benefits are good, the office is clean, and the work is meaningful? CampaignHQ is hiring. In our Oskaloosa office, we are looking to at 10 more quality employees.
Campaign Director
As a Campaign Director, you will be the main point of contact for a group of our clients. You will help them craft their plans and manage the execution of their telephone voter contact, telephone townhall, and conTEXT message campaigns. You will play a critical role in business development, building and maintaining relationships with candidates, campaign managers, and consultants across the country. Strong preference will be given to those who have an existing network of contacts in the political and public affairs arena.

Deputy Campaign Director
As a Deputy Campaign Director, you will be a vital part of the team delivering millions of text messages, live and automated calls on behalf of candidates and issue advocacy organizations across the country. You'll help with price quotes, project setup and execution, script writing, data handling, and many other important tasks. At the end of the day, your mission is to support our Campaign Directors and exceed our client's expectations.
If you are looking for an entry-level position with a nationally known firm, this could be your dream job! If you've worked on a campaign for one or two cycles, that's fantastic, but not required.

Data Management Specialist
As a Data Management Specialist, you will be involved in the daily preparation of campaign reports and other data needs. This includes maintaining existing reports and databases, creating new reports and databases, accuracy and functionality of CRM data, collaborating with sales and operations to identify problems and solve them. You must be proficient in Microsoft Excel, including pivot tables and advanced formulas. Proficient in Microsoft Access table and query creation. Familiar with Visual Basic for Applications. Familiar with SQL and Python preferred. Recent graduates or those finishing remote study are welcome to apply.

These are all PERMANENT full time positions. If you love campaigns and hate unemployment, I encourage you to learn more and apply.

Interested? Email Marlys@chq.us, Senior Campaign Director, and we'll send you a full job description and instructions to apply for the position in which you are interested.