Parades, town festivals, backyard BBQs, local fairs – there is nothing more authentic than campaigning in the summertime. Large crowds of local voters and lots of hands to shake make for easy and fun campaign work.
But what happens during a global pandemic where crowds are forbidden and handshaking is frowned upon?
How do you connect with voters when summer is cancelled?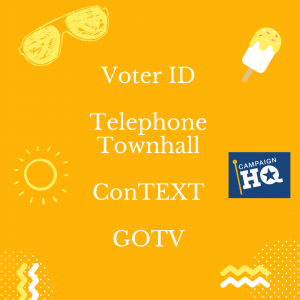 Voter ID 
Step one of campaigning is identifying your supporters. Since in-person campaigning has been nearly impossible, you may have pushed back your voter ID. If you haven't done this already, you are behind. Don't worry – we can get you back on track.
We can set up an automated call quickly, and they are extremely affordable! We can help draft a script, record the audio, scrub the list of mobile phones, set up, and launch! Using an automated call to survey voters can help you get the results you have been anticipating quickly!
CampaignHQ can also assist you with a live blind ID call. Simply send us a list of voters you would like us to contact and we can do the rest!
Telephone Townhall
CampaignHQ can help you rally your supporters and show undecided voters that you are ready, able, and willing to talk with them and answer their questions.
Setting up a telephone townhall is easy when working with CampaignHQ. Simply send us a date and time you would like to talk with your voters (or constituents on the official side) and a list. We will help you record your sound files for a pre-call, live answer, voicemail, and even post call!
We can also help you invite voters via conTEXT message and advise you on how to promote the event through your email and social channels.
conTEXT
If you haven't added peer-to-peer texting to your campaign arsenal yet, you're missing an important component. This may be your best chance to capture the attention of young voters, women voters, and swing voters.
You can introduce yourself, share your vision in a 20 second video, and ask each person to watch your video and share their opinions.  There are countless ways to leverage this tool.
Remember, the value of peer-to-peer texting is that a real human being is making a connection with another. Our agents personally send and reply to every single message. We can even track who clicked on your link!
GOTV
As confusion continues to surround the country re-opening, Election Day is growing near. Phone calls can significantly impact your turnout.
Some people will be voting by mail who have never voted by mail before. These voters may be confused on how to even request an absentee ballot. Those who want to vote in person may be confused how and where to vote, now that protocols have changed due to social distancing.
In addition to GOTV calls, CampaignHQ can send out a conTEXT message letting your voters know where their voting location is on Election Day.We can even text voters how they would apply for an absentee ballot. Nothing is worse than voters not showing up to cast their ballot.
While summer may be cancelled, we know your election is not. Want the winning edge? Give me a call at  (888) 722-4704. 
Nicole Schlinger