… At CampaignHQ, we love grassroots voter contact. We are in the thick of it with our candidates, consultants, and conservative issue organizations. There's an election almost every week. We are not only helping elect liberty-minded conservatives to office, we hold politicians ACCOUNTABLE once they are in office. What does that mean for you? Well … it means stable employment. We are operating 365 days a year. Win or lose, if you hit your goals, you'll not only have a job at CampaignHQ, you'll grow and advance in your career. If you are fed-up with 6-month contracts, of being tossed aside when you're no longer needed, if you love grassroots politics, you are hungry, humble, smart, and detail oriented, and you aren't afraid to take a risk to get what you want, then apply at CampaignHQ.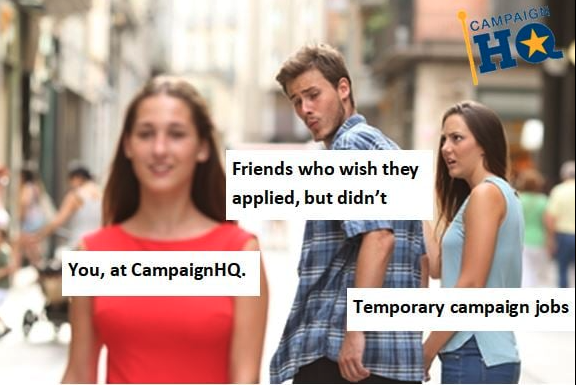 Here are the positions we're hiring for right now:
Vice President of Client Services
https://www.linkedin.com/jobs/view/2359918195/
This position is ideal for someone who has worked in a leadership position in a campaign, party, or grassroots organization, and is seeking a stable, permanent career where your political experience and connections are valued. We're looking for someone with a strong understanding of grassroots voter contact and an existing network of personal connections. There is also potential for future advancement into senior leadership.
Campaign Director (Account Representative) https://www.linkedin.com/jobs/view/2545583053/
This position is ideal for someone who is passionate about politics, loves campaigns, but wants a stable career instead of constant moving and job hopping. It's helpful to have at least one or two cycles, but we can take someone right out of college or with other relevant experience. The most important things are being coachable, organized, and detail oriented. We can train the skills, but not the work ethic and enthusiasm.