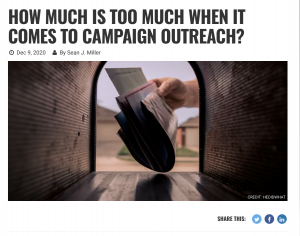 At the end of the year, Campaigns & Elections took a look how "consultants across the campaign industry are grappling with questions of volume and timing after a cycle that saw record spending and more calendar-shifted voting."
I'm so appreciative that they reached out to get my thoughts – here are a few:
Still, volume can become an issue if the quality of the communication isn't there. In fact, several Republican consultants stressed that campaigns still need to be targeted and specific in how and why they're reaching out.

"The rate of response was very dependent on the quality of the interaction," said Nicole Schlinger, who heads Iowa-based phones firm Campaign HQ. "That kind of message' [This is so and so, I've texted 15 times and you haven't given to me yet] does not engage people.

"The percentage of responses that we would get on messages like that really would drop. On the other hand, if you had a candidate who sat with his iPhone or her iPhone and recorded a 30-second message at their dinning room table, put it up on Facebook and then texted it out to people, then we could even do a robocall of the sound file to landlines. That was the kind of thing that was really, really effective because people would engage with it. There's no point in doing something that's not worth engaging with."
Read the full article here and subscribe to the weekly C&E Newsletter by clicking here.