The lookbacks to the 2020 election keep coming – and this time it's all about peer-to-peer texting and its effectiveness in the past election cycle.
According to polling from Mitto, "campaign text messages were largely impactful; more than half of the recipients read all or most of the text messages they received from campaigns and nearly one-third reported that their voting decisions were influenced by the text messages. This was especially true as 37% of respondents reported that they felt influenced to register to vote because of campaign text messages they received ahead of the election."
CampaignHQ knows the tremendous asset conTEXT can be to any candidate, elected official, organization or association. The value of peer-to-peer texting is that a real human being is making a connection with another.
While you have limited characters to work with, peer-to-peer texting is good for EVERYTHING. 
Introduce yourself to voters having a two-way conversation.
Reach out to association members to help them engage on priority legislation.
Share a 20 second video message directly to a constituent's phone.
Engage low propensity and undecided voters who are notoriously hard to reach.
Share polling location information with voters you are trying to turnout.
Fight back against political attacks or disinformation.
We can share images, sound, video, and website links via conTEXT peer to peer text message.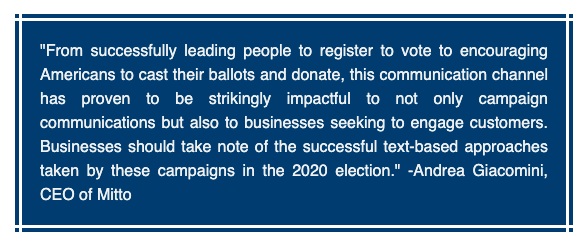 CHQ is the industry leader when it comes to peer-to-peer texting. Our team knows how to deliver the right message to help you be successful. Our agents personally send and reply to every single message. We can even track who clicked on your link!
conTEXT is an incredibly effective tool and CampaignHQ is an award winning company who will deliver your message.