Check out this great post from one of our CHQ rockstars, Marlys Popma:

I have been doing some reminiscing lately. Every four years at about this time, I think about the National Republican Conventions I have attended. I have attended as Republican Party of Iowa Staff, as Campaign Staff and finally as a National Delegate.
Every convention that I've attended over the past 24 years has been memorable. 
I remember four women packed into a downtown San Diego hotel in 1996. I won't expound on the trip to Lucky's Tattoo Parlor. This was my first convention. I was awestruck by the great speeches and the excitement in the room.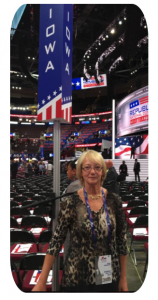 Then there was Philadelphia where we had our own Republican celebrities – Bo Derek, Rick Schroder, and Connie Stevens.
The New York Convention was amazing! Standing in Times Square and visiting the Statue of Liberty were highlights outside of the convention.  But I think the highlight of the convention for me was the keynote address by conservative Democrat, Zell Miller of Georgia.  He said in that speech, "I barely recognize my party anymore…Today, it's the Democratic Party that has mastered the art of division and diversion." I don't think much has changed since 2004.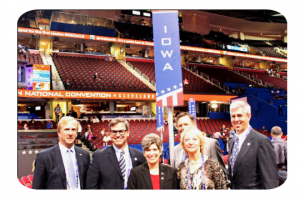 In 2008, I went to the Minneapolis convention as the National Coordinator of Social Conservative and Evangelical Outreach for John McCain.  The theme of that convention was "Country First." Now many on the left not only would hate that theme, as it seems that they hate this country!
In 2016, I went to the National Convention as an At-Large Delegate. Donald Trump was the presumptive nominee. I admit that I was reticent about Trump's potential effectiveness.  I must tell you that I have NEVER been so happy to be proven wrong.  Trump has done more for the economy, for the pro-life movement, and for religious liberty than any president in history and I will be honored to cast my vote for him in 2020.
When you work with CampaignHQ, please know that we are not just a vendor. We are a group of people who are soldiers for the conservative movement. We have the expertise and decades of experience to know what it's really like out on the front lines.
Our advice to you comes from years of frontline campaign work.
We are strategic…. you can trust us.