I might seem like a broken record these days, but while our worlds have been turned upside down, your campaign must keep going forward. Here are a few tips on how to communicate during COVD-19 that we are here to help you focus on.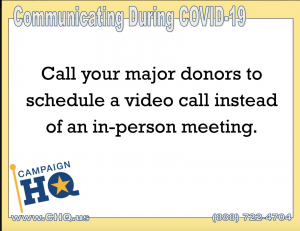 While you may not be able to meet with your donors in-person or at events, they still WANT to hear from you! #CHQ can help by scheduling 15 minute videoconference meetings to replace that face-to-face time and keep your campaign moving in a positive direction. Donors will be eager to hear what you have to say at this critical time. Don't stop communicating!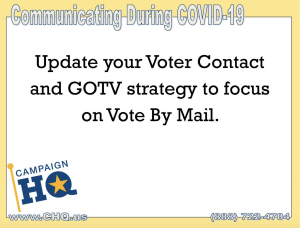 Now is the time to SCRAP your original voter contact strategy and focus on Vote by Mail. With states across the country postponing their primaries, and others changing or relaxing Vote by Mail rules, mail-in ballots will have an unprecedented effect on voter turnout. Where do you start? A text message conversation with a 20 second video. A telephone townhall conversation to bring the community together. A live call from someone who cares.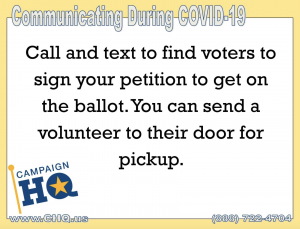 While there is much talk of changing voting dates and voting by mail … one thing hasn't changed. Your name will not be on the ballot unless you submit the required number of petition signatures. Old-school methods of tabling and door knocking won't work! Let us help you identify willing signers, so you can collect signatures SAFELY and EFFECTIVELY. Don't let COVID19 silence the voice of your voters.
Give us a call today and we'll help you develop winning strategies for November.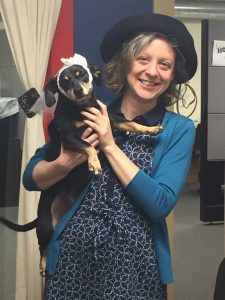 Nicole Schlinger