Back before the election, I participated in a fun write up for the Republican State Leadership Committee – check it out: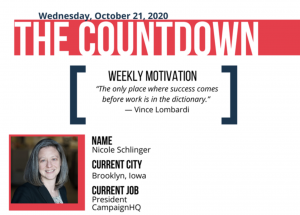 Nicole Schlinger is the President of CampaignHQ and currently lives in Brooklyn, Iowa.
What 5 things (software, tech, apps, gear, etc.) do you need to do your job?
1. A predictive dialer to help our clients with their most important calls – voter ID, GOTV, patch throughs, auto dials – you name it, we do it.
2. Peer-to-peer text software to send personalized messages, GIFs, pictures to help reach voters right where they are.
3. Our Telephone Townhall platform has been put to work a lot lately as candidates work to have discussions with voters in socially distant, yet effective ways.
4. Microsoft Teams keeps our CHQ family on the same page.
5. FriXion erasable pens – how does anyone work without these?
Four years from now, what will be the lesson learned from this election?
Campaigns faced the challenge of how to have meaningful conversations with voters when, at some level, they could not campaign in person. Successful campaigns were those that answered the basic need for human interaction that voters may not have received from a digital ad, a tv commercial or direct mail.
Name 3 trends you're watching in the 2020 elections?
1. GOP campaigns incorporating relational organizing techniques into their plan.
2. The effect Big Tech locking down digital ads will have on other channels as a method to get the word out nearing Election Day.
3. How candidates adapt to campaigning during a pandemic and do those lessons carry forward to future cycles.
Which 2 factors will most impact voters' decisions this November?
The pandemic and the economy go hand in hand. Voters are afraid, angry and anxiety-ridden. Successful candidates will be those who have been speaking and listening to voters this whole time and who voters believe can get things moving in the right direction.
What's one thing every candidate should be doing right now to win?
Every candidate should seek to have authentic, two-way conversations with voters. Your future constituents are fed up with candidates and organizations who force a message upon them without hearing what they have to say. When you take time to listen – whether it's in-person, at socially distanced events, over the phone, or by text – voters will take the time to listen to you.