We are living through times you will speak about with your children and grandchildren.
People are starved for human interaction. Unable to go to church or school, they are searching for new ways to gather, connect, and communicate.
Candidates and organizations who never considered a Telephone Townhall are scrambling to set up events at a record pace.
But some of our friends have been using Telephone Townhalls and Microforums for years.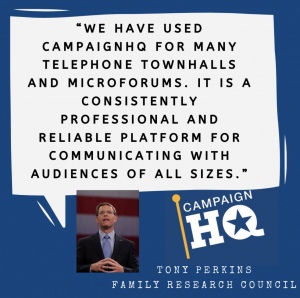 So, who should use a Telephone Townhall and who should use a Microforum?
If you are looking to engage a small group, less than 1,500 people, then you should consider a Microforum. You still communicate directly with your audience and they can communicate with you.
If you want to reach out to a larger group of people, then a Telephone Townhall is what you need. You can dial out to 2,000 or 200,000 people. The choice is yours.
In any event, try to secure a well-known person to join your call. Advertise the call to your donors or constituents so they don't miss a minute.
One of our recent events even had a surprise appearance by President Trump!
According to news reports about the forum
, that was hosted by Family Research Council, once President Trump heard who the vice president would be talking to, he knew it was something he needed to do! The President thanked the pastors on the call for the work they have been doing, inspiring their communities and praying for our nation. He reminded the group of influential conservatives about the recent policy successes he had delivered.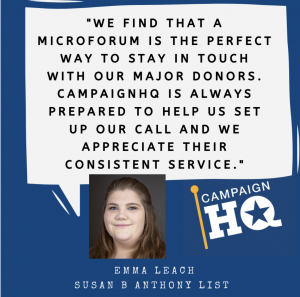 In difficult times, communication is key.
CampaignHQ can facilitate an interactive conversation with you, the members of your organization, your voters, and your constituents.
We are so honored to help our clients meet their goals, and we would love to get to work for you today.
How can we help you in this time?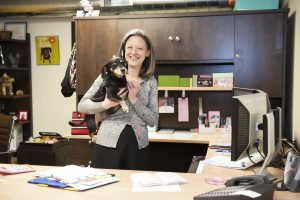 Nicole Schlinger