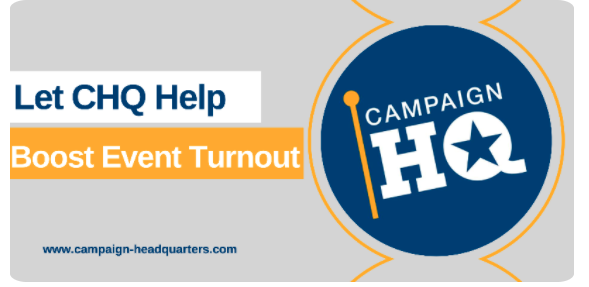 Event season is upon us. The country is opening. Organizations are holding events. Incumbents are out hosting meetings. Associations are getting together to recap the session and lay out their agenda for the next one. No matter your event – size, in-person or virtual, or topic – the experts at CampaignHQ stand ready to help you take it to the next level.
There are several strategies that you may not have even considered. Here are a few ideas:
Automated Calls
Automated calls are the fastest, most affordable way to reach people. By relying on CampaignHQ for your automated calls, you will be able to grow your RSVP list and broaden your reach affordably. You can depend on us for complete FCC / TCPA compliance, lightning-fast setup, reporting and return of data and RSVPs. When you're planning a big event, you don't need one more thing to worry about.
Live Calls
Our team of specialists and award-winning callers will work with you to quickly turn around a script and get the calls rolling as you push turnout to your event. Trust the pros to have effective, two-way conversations with potential attendees, providing them with all the information and details they need to attend your event.
Text Messages
There are countless ways to leverage a text message. You can send your invitation directly to attendees' phones, send reminders to those who have RSVPed, direct people to your website or even send a follow-up video after your event, thanking attendees for their support.
Telephone Townhalls
Cover all your bases by taking your in-person event and leveraging a virtual aspect. By utilizing a telephone townhall, you'll be able to stream audio and video and connect to your attendees virtually thought a live Facebook event or on your website. You'll get more attendees, more attention and have content to share later.
Give us a call and let us know what you're planning. We will talk through your goals, expectations and needs and work with you to develop the best plan for YOU. There's no question, with the CampaignHQ team by your side, you'll knock it out of the park.