In the winter of 2007, Romney was barnstorming Iowa like no other candidate. We were taking RSVPs for dozens of "Ask Mitt Anything" events all over the state.
But he wasn't the only one. We were still raising money for Congressman Latham and now Congressman Steve King. We were still setting appointments for State Legislators.
So how do you handle RSVP's for many candidates coming into a single toll free number?
You change your name.
No matter which event or which candidate you were calling for … if you were greeted with a cheery "Campaign Headquarters" … you called the right place.
So that's how the name Capitol Resources got chucked out the window and replaced with CampaignHQ.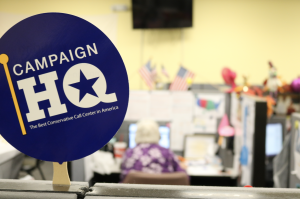 When the Romney campaign ended in early 2008, it would have been easy to go back to the same old grind. House parties. Appointments. But once David Kochel makes you see something, you can't unsee it. We kept on doing what we'd always done, but on the side we were building the new business.
2008 was a rough year. I stopped taking paychecks again. Barack Obama was elected President, and the Tea Party movement was about to begin.