In case you missed it – I, Martha Waffles, took over the CampaignHQ email account the other day and happened to send out my yearly update from the trenches. It's some of my finest work. I hope you will enjoy my "pup-date":
Hello everyone, "howl" ya doin'?
Everything over here at CampaignHQ remains "pawsative." I wanted to give you a few updates on what I have been up to the last 6 months – I think you'll see, I haven't just been "rolling" over!
I have been "sitting" (good girl) in on several meetings where we have discussed the advancement of our conTEXT messaging. My employees and I have worked our fingers to the "bone" – making sure we live up to our slogan as the "Best Conservative Call Center in America."
Just like the "pup-arazzi," I've been making my employees include images and videos in their peer-to-to-peer text messages. In fact, I asked them to make you a sample below to see how much more attention you can get with an image.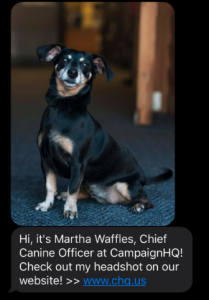 I've also been super busy working with Jessica to get your GIFTS wrapped! Oh wait, I wasn't supposed to tell you that! BAD DOG! Well, when you "fetch" the mail, please act surprised. I don't want to get in trouble again. But needless to say, if you have a secret, I'm not very good at keeping it.
Marlys loves it when I help her set up multiple patch through projects ranging from the South Carolina State House all the way to the United States Congress!  No one keeps elected officials in line and makes them "heel" better than the CHQ team.
Okay, okay…. Enough serious business. I have a really funny story for you!
A few months ago, one of my employees was eating summer sausage (YUM). Well, he had this meeting to go over how our data team can continue to uphold their standards of getting trackers out early every. single. morning! And I, Martha Waffles, did not want that summer sausage to go to waste. So, I did what any sane pup would do and ate the entire platter! I will never "a-paw-logize," it was delicious.

So, the next time you need someone to help you raise the "woof" on your phone calls or text messages, make sure you ask if your call center has a Chief Canine Officer named Martha Waffles. That's how you know you're getting the very best … ME!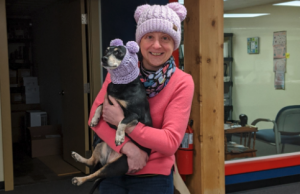 "Fur-ever" yours,
Martha Waffles
Chief Canine Officer