Every year, the Chief Canine Officer at CHQ pens a memo to our newsletter list, providing and update and inside look at what's happening in Brooklyn. It is a hoot and for sure the newsletter we get the most feedback on.
Earlier this summer, Waffles graced us with another one of her memos – I'm sharing here for your reading pleasure.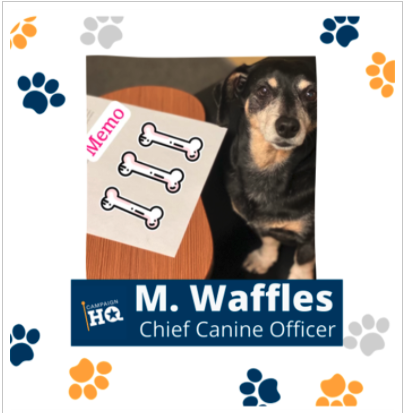 Oh, hello again. It's me – Martha Waffles, the Chief Canine Officer over here at CampaignHQ. They're letting me off the leash again to send you my annual message. No bones about it, I've been a very good dog this year. I've been our clients' best friend, lending a helping paw when they need it most.
I have a very efficient plan for your team too. If you stick with me and the CHQ treat minions, your days will be like the wind in your ears sticking your head out the window (a breeze).
Telephone Townhowls Townhalls
Any dog can hunt with a telephone townhall. If you're a lawmaker, campaign, advocacy organization, association or any two-legged person in between, you can effectively communicate your message with a telephone townhall.
Lawmaker
Telephone townhalls can be used for official business and in leu of in-person events, talking to voters about how you're fulfilling your campaign promises or briefing them on legislation you're working on.
Candidate, Party Officials
Telephone townhalls help take your message directly to the voter and engage in a two-way conversation to find out what issues are most important to them or to share your policy agenda moving forward.
Interest Group, Associations
Brief membership and help keep them engaged on your issues. As legislation moves, help engage your group or after a bill has passed, fill them in, and allow them to have a two-way conversation about what it means for them going forward.
Peer to Peer Text Messaging
I've never really had the thumbs for this, but the CHQ treat minions sure do and they tell me the value of peer-to-peer texting is that a real human being (not a four-legged, furry friend) is making a connection with another.
While you have limited characters to
work with, peer-to-peer texting is good for EVERYTHING.
Introduce yourself to voters having a two-way conversation.
Reach out to association members to help them engage on priority legislation.
Share a 20 second video message directly to a constituent's phone.
Engage low propensity and undecided voters who are notoriously hard to reach.
Share polling location information with voters you are trying to turnout.
Fight back against political attacks or disinformation.
We can share images, sound, video, and website links via conTEXT peer to peer text message.
Live Calls
Don't chase your tail – get right to it with live calls. This is an especially effective way to combat voter confusion. Our team (treat minions) will work with you to quickly fetch a script and get the calls rolling.
If you really want to get your pack moving, you should try patch through calls. Transferring constituents directly to an elected official's office, using their own words, and urge a vote on your issue.
Patch through calls fit into any budget, which leaves more money to spend on treats. You simply target the number of transfers per elected official and let the treat minions do the rest. They can even deliver patch through calls to an elected official's office right before you have a meeting and once they sign on to your position, we'll stop barking up their tree.
Candidates and lawmakers taking advantage of real, two-way conversations with voters are going to have a major leg up over their opponent, and not in a fire hydrant kind of way.
Once you go for a walk with CHQ, it will leave you begging for more because it's such a treat!
Speaking of, I need to go find one of those treat minions. Call Nicole (888) 722 – 4704  and tell her you want me to get to work for you and promise bacon.